Partico is a start-up cooperative of experienced specialists who have part-time availability. The organisation offers:
A legal framework that gives you the benefits of an employment contract while maintaining the flexibility of a part-time freelancer.
An administrative framework that manages invoices, salary, insurances, etc
A community of like-minded people who want to evolve professionally and develop and exciting new projects.
How it works
With Partico, you are part of an organisation where you have a permanent employment contract and are covered by all the insurances that you get with a normal job.
However, you are much more autonomous than with a "normal" job. You organise yourself, you find your own leads and projects. Your own salary will be driven almost completely by you. From the income you generate, a part will be used to cover all the insurances and some percentage will cover Partico's cost. The rest will be your salary. As we are a member owned cooperative, there is no money that goes to an investor or "owner".

Onboarding
To join Partico, just come to one of our introductory events and then complete your profile on our website.
During a personal interview we will review your profile together and define an "integration plan" to help you get involved in a project as soon as possible.
Your formal employment will start once you have an active project to work on.

Join the cooperative
Partico is a cooperative. Join it to help us develop this project, to co-own it and to participate in decision making.
Through the start-up phase, we only accept members who also become cooperative members. At a later stage, we will likely also open the project to people who don't want to become members of the cooperative.
Levels of membership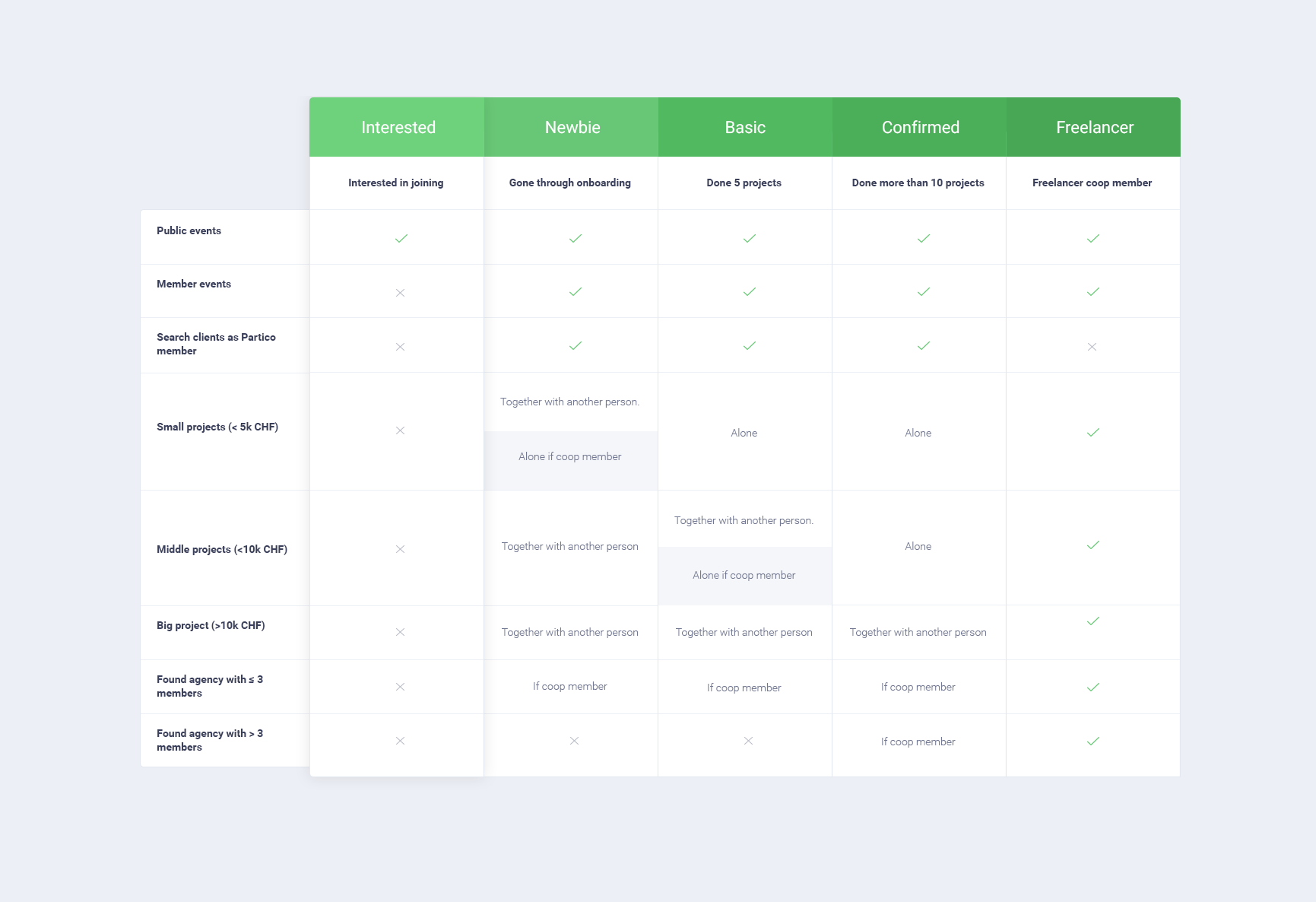 Partico agencies
How can we ensure good quality of service but without creating a strong hierarchy and reduced flexibility? We do this by creating (and allowing you to create) "agencies" within Partico.
A Partico Agency is a group of 2 or more members joining forces to offer a service as a team.
From day one of founding, an agency becomes an almost autonomous entity within Partico. They can create their own name and identity and communicate on their own. It might even be a starting point for a totally new company which might spin-off from Partico if their members so wish.
(We are currently working on the Partico handbook that will contain more details about this).
How to start a new project
We strongly encourage our members to come up with project ideas of their own. Partico can serve as an incubator so that new ventures can grow in a protected environment and, if all goes well, spin off at some point. If you have a project idea and you think that Partico could help to get it started, please contact us.